Welcome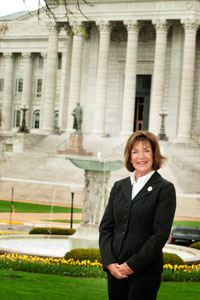 Welcome to Harness & Associates, LLC, a governmental relations and consulting firm situated in the heart of historic downtown Jefferson City, Missouri. With over 20 years of consulting experience, and just two blocks from the Missouri State Capitol and key state agencies, our firm has the expertise, relationships and resources to be your "presence" in the Capitol city.
Whether you are trying to impact a legislative or regulatory issue, raise your visibility with policymakers, unite disparate interests in your favor, increase public awareness for your services or products, or build strategic relationships within the community, our first-hand knowledge of the legislative and political processes along with our ability to build broad-based community support on key, allows Harness to deliver real results.
Your Trusted Legislative Consultants for More than 20 Years
"You can count on us to develop the best strategy—regardless of the current political climate or prevailing ideology—to advocate your interests. With our knowledge of the legislative process and how it works at all levels, as well as our network of contacts, we are able to get our clients results."
—Kathi Harness, Principal
Please browse our services and accomplishments to see how Harness can achieve success for you.