Meet Harness
Kathryn Harness is the principal of Harness & Associates, LLC, a governmental relations consulting firm in Jefferson City, and specializes in the areas of strategic communications and public relations, public involvement/public participation strategies and campaigns, community relations, government relations, grassroots advocacy and coalition building.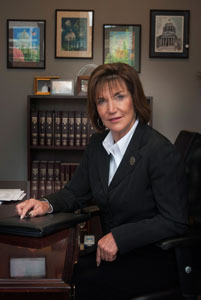 With over 20 years of experience in governmental consulting, Harness has a deep understanding of the workings of public and private sectors, media relations, strategic approaches to problem solving, and proven communications top sale pdfs skills to communicate your message effectively and efficiently and connect with key decision makers to support your project and generate the momentum needed to attain real results.
Harness knows how to work both sides of the political aisle. You can count on us to develop the best strategy – regardless of the current political climate or prevailing ideology – to advocate your interests. With our knowledge of the legislative process and how it works at all levels, as well as our network of contacts, we are able to get our clients results.
Whether you're trying to garner public support for your development project, raise your visibility with policymakers, unite disparate interests in your favor, impact a legislative issue, increase public awareness for your services or products, or build strategic relationships within the community, our first-hand knowledge of the legislative and political processes and our ability to build broad-based community support on key issues, allows Harness to deliver results.
The Harness Mission
Harness & Associates was founded on the principle that a company can do well for its clients, while doing good for the public. With this mission in mind, Harness combines a thorough understanding of the public sector, with experience working on issues ranging from social services to economic development projects to health care. Our broad spectrum of capabilities, lends authority to our passion for helping clients who serve the public interest.